Special Offer
Order now to save on a full licence of SPI SheetMetalWorks!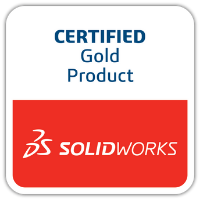 Thank you for your interest in purchasing your own SPI SheetMetalWorks license, the expert software for sheet metal designers!
SPI SheetMetalWorks helps you to design and manufacture sheet metal parts and assemblies. It is a premium software tool with extended, intuitive commands supporting typical sheet metal operations. It delivers an extremely fast and automatic 2D flat pattern generated with all bend allowances and gives you a significant increase in manufacturing-ready products.
Read more about SheetMetalWorks.
SPI is a SOLIDWORKS Solution Partner Since 1998. Our product SPI SheetMetalWorks is a certified Gold Product.
From now on until the 29th of May, 2020 we offer you a special reduced price:
Regular list price = $ 3,650.00
Special offer = $ 2,555.00
You save: $ 1,095.00
Fill out the form to order your SheetMetalWorks License:
You would also like to purchase our Getting Started online training?
NOTE ON PRIVACY POLICY
We only use your data to respond to your request, and not for other (e.g. marketing) purposes. Once you have completed the form and click Send, your message will be sent to SPI. Before submitting, please read and accept our Privacy Policy information.
You have the right to information about the data stored about you, their origin and recipient, as well as the purpose of the storage and, if applicable, the right to rectification, blocking or deletion of this data, as well as the restriction of processing and the right to object to the processing. To exercise this right, please contact datenschutz@spi.de.

© 1980-2020, SPI Systemberatung Programmierung Industrieelektronik GmbH
All rights reserved